Skip to main content
How do I...
How do I find peer-reviewed articles in CINAHL?
Enter your search terms. Under the Limit Your Results section, click on Peer-Reviewed, and then Search.
Can I format the citations in APA or AMA style?
Yes. When you have grouped your citations in your Folder, you can select APA style under Citation Format in the Print, Email, or Save screens. Or, when viewing individual records, use the Cite option to the right of the screen.
How do I search for research instruments?
Mouseover for expanded view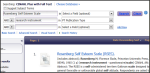 Searching for research instruments or measurement tools:
Search for a description of an instrument and possible full text using the research instrument Publication Type (PT):
Enter Rosenberg self esteem scale in one search box and enter Research Instrument in another search box, this time selecting the Publication Type field to be searched.
Search for studies that use a particular instrument by using the Instrumentation field (IN):
Enter Rosenberg self esteem scale and select the Instrumentation field.
How do I improve search results?
No References or Too Few References
Look for misspellings in your strategy.
Decrease the number of concepts searched.
Try a broader search term.
Use a term from the thesaurus (i.e., MeSH or subject heading list) for searching.
Use the Related Articles or Similar Articles feature.
Check for missing or incorrect field qualifiers.
Remove terms that are unlikely to be used by an author.
Replace terms that are too general or too specific.
Increase the number of synonyms or alternatives for a term.
Use a truncation symbol at the end of a term to pick up variant endings.
Try running the search on earlier years (back files) of the database.
Try a different database.
Too Many References
Choose the most specific subject headings or most significant key words.
Use subheadings to narrow the focus of the subject heading if appropriate.
Increase the number of search concepts that are ANDed together.
Use fewer synonyms for terms.
Make a term from the thesaurus (i.e. subject heading list or controlled vocabulary) the main focus of the article ("major" in PubMed and "focus" in CINAHL).
Limit to Review articles.
Limit your search to type of article, language, age group, current years, etc.
Ask for significant words to be in the TITLE of the article.