Skip to main content
Save Search and Alerts
Mouseover image for larger view
Create Personal Ebsco Account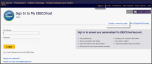 Save Search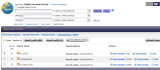 Create Automatic Email Alert

Saving Searches and Creating Alerts
Save your search to be rerun at another time or create automatic email updates.
Create a personal account by clicking

Sign In

at the top of the page. Go to

Create a New Account

and set up your profile, or sign in to an existing account by entering your username and password. Then you will be returned to the Search page.
Enter a search.
Click

Search History

above the search results and select search to be saved. Then click

Save Searches/Alerts

.
Name your search and select from the options to save as a permanent search or an alert. If selecting to save as an alert, select from the options that appear and click

Save

.
To access your saved searches in future, go to the Search History page, and click

Retrieve Searches

. The retrieved search or alert can either be rerun, edited, or deleted. RSS feed URLs are also available when you create an Alert.